Description
God's Been Divorced Too!: Breaking the Stigma of Divorce and Infidelity by Wade Long (Author)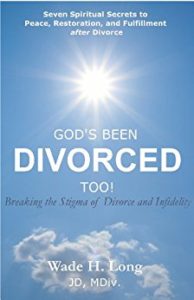 Divorce can make someone feel that their life can never be right again. Where is God? Could he possibly understand? Would he even want to lead me through this? And… why has this happened to me?
This book provides a Christian answer to those questions. The fact that God himself has been divorced, is utilized to break the unusually powerful stigma associated with divorce. God's personal divorce is further used to delve into the dynamics of infidelity for the specific purpose of removing the disorientation that always seems to follow a betrayal.
The framework of seven spiritual secrets is used to display timeless truth... to both understand the past, and to build a new future. The seven secrets of freedom, peace, reciprocity, fallenness, integrity, trust, and fulfillment, will take the reader on a specifically scriptural journey into restoration.
Along the way, each secret challenges traditional viewpoints while revealing unique and hidden outlooks. In the first secret, the freedom to rise above the stigma of divorce is made wonderfully irrefutable. The second secret surprisingly proves that God affirmatively wants us to have peace, even through divorce. In the third secret, the false virtue of a never-ending, unfruitful, and unconditional love for an unfaithful mate is demystified. Then in the fourth secret, the myth of a perfect life in a fallen world is exposed. In the fifth secret, being willing to sacrificially love someone is shown to not mean giving up your intrinsic dignity. The sixth secret shows the discovery of how an outlook of "Trust' can still deliver us, even in an untrustworthy world. And last, in the seventh secret, marriage is revealed to not be your highest earthly fulfillment…so what is?
Many people, from ancient times until today, have embraced the truth of these secrets as they've walked through the pathways of their lives. So come and join them. It's the scriptural journey of peace, restoration, and fulfillment.